Performance at Mac's Tavern in Cary
We had a blast playing with the wonderful a cappella group Catch 22 at Mac's Tavern (9/23/2017) to a packed house. Many thanks to Catch 22 for inviting us.
Downtown Cary Farmers Market
Another beautiful day (6/10/17) to play outdoors and enjoy the downtown Cary farmers market on the porch of the historic Ivey-Ellington house! What a cool old house this is and the porch gave us some welcome shade!
May 2017 Summer Picnic at Cary Oil

Thanks to all the great folks at Cary Oil (Pete works there part time) for giving us the opportunity to play for their company picnic. The weather was absolutely gorgeous for being outside and we had a wonderful time playing for everyone!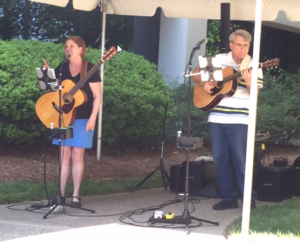 CityFolk at The Oasis in Carr Mill Mall, Carrboro

The Oasis has quickly become one of our favorite "hang outs". It operates as a traditional coffee/cafe/tea/wine lounge where you can come alone or with friends and enjoy it's relaxing environment. They serve organic Counter Culture Coffee (chosen #1 in Southeast, fresh-ground & French-pressed), kratom, kava, large selection of organic teas, smoothies and lemonade, gluten-free, vegetarian and vegan meals from Vimala's Curryblossom Cafe, veggie quiches from Whole Foods, personal no-GMOs Naan pizzas, organic North Coast beer, wine, gluten-free, vegan, pastries and fine chocolates from Matthews Chocolates in Hillsborough.
At night, The Oasis transforms into an environment of entertainment, connections and inspiration. On week nights, they host a variety of presentations (7:00-8:00pm) on life-affirming topics (holistic health, environmental issues, indigenous wisdom, sustainability, etc.). On weekend nights they show Movies-That-Matter or have live music (7:30-9pm). All events are free.
We love playing there because we can play just acoustically (no PA equipment needed) and enjoy the intimate setting with an attentive and friendly staff. Click here to access their website and see the latest calendar of events. Here are a couple of pictures of us performing and of the cozy space.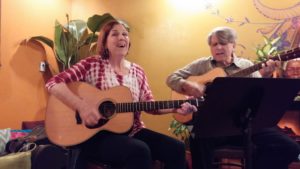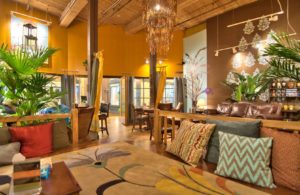 CityFolk at Bynum Front Porch Music Series

July 2016 marked our 3rd time we've performed at the wonderful Bynum Back Porch Music Series. As you can see, even the Pokemon's were out to enjoy bucolic Bynum and acoustic folk music!
CityFolk at Steve Krenz's Guitar Gathering in Nashville, TN

We were privileged to meet so many wonderful guitarists and musicians during this gathering. All so tremendously talented, but down to earth and gracious. What a thrill! Here are a few photos from the Gathering in 2016.
With Steve Krenz and the entire Guitar Gathering "gang":
Here we are with Phil Keaggy at Steve's Live Lesson taping at the Vintage Guitar Capitol of the World, Gruhn Guitars in Nashville, Tennessee. Phil is primarily known in Christian music circles, but is one of the most talented and amazing players you'll ever see. Another wonderfully gracious musician. It was an honor to meet him and talk "guitar"!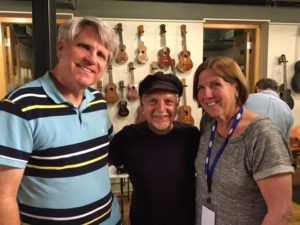 We attended a very special live lesson during the 2016 Guitar Gathering conference with Phil Keaggy, click here to view the actual lesson (you must have the latest Flash player). We also recommend signing up to get on Steve's list for attending future lessons. They're totally free. The session had tons of brilliant music, laughs, and a wild studio audience (you can see us at the back just to the left of the camera that's on a tripod when Steve pans into the audience at the beginning of the video).
CityFolk Tours the Musician's Hall of Fame in Nashville With Will McFarlane
Also while at the Guitar Gathering, we were honored to have Will McFarlane give us a tour of the Musicians Hall of Fame (not to be confused with the Country Music Hall of Fame). In addition to being a great guitar player, Will is such a gracious, down to earth person, with a wonderful sense of humor. His career spans decades that includes being Bonnie Raitt's lead guitarist for 6 years and now doing session work at Muscle Shoals studio in Alabama. It was just such a pleasure to have him walk through the exhibits at the museum and hear him tell stories of his first hand experiences with many of the musicians profiled in the various exhibits. This is a person who "hung out" with the likes of the Rolling Stones, Steve Cropper, Booker T, Percy Sledge, Etta James, Duane Eddy, Jimmy Johnson the list goes on! It was an incredibly fascinating walk through music history with someone who was actually there!  Truly amazing.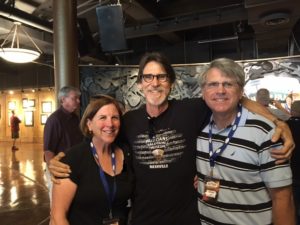 CityFolk at Brixx Pizza in Cameron Village

Despite the on-again-off-again rain forcing us to play indoors, we had fun playing at Brixx Pizza. Great pizza and beer selection!
CityFolk at The Mill

We had a wonderful time playing at The Mill in Fuquay-Varina. What a wonderful local "hangout". Great people, good coffee, and an excellent selection of locally brewed beers on tap.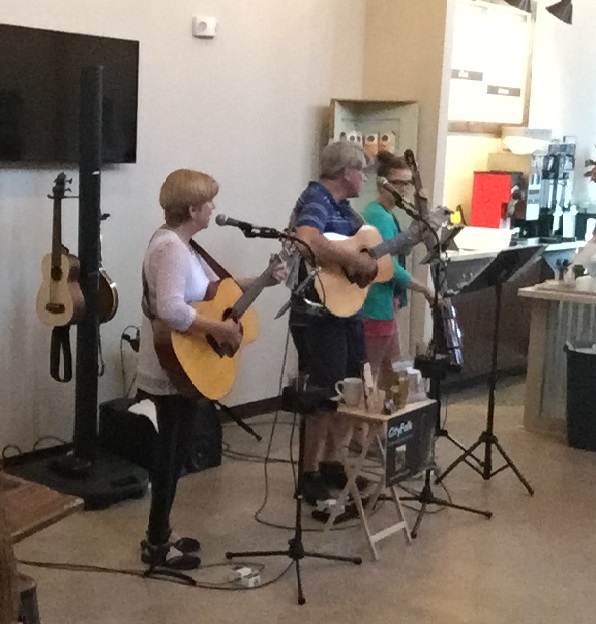 Apex Farmer's Market Season Opener

Boy have Lynn and Val have done a great job building up the Apex Farmer's Market. For opening day, they estimated over 1000 people attended! And they are just getting started! What great weather to be playing outside as well, despite the train traffic!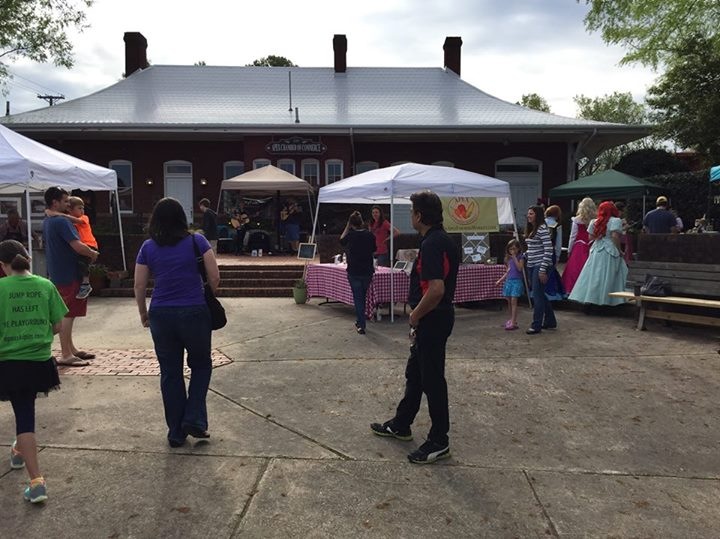 Apex Farmer's Market Meet and Greet

We had a great time playing for this wonderful family oriented event at the Brueprint Brewery. Folks could come and meet the various vendors who will have a presence at the Apex Farmer's Market each Saturday morning. There was plenty of fun for the entire family from games and prized to the delicious brews offered by Brueprint!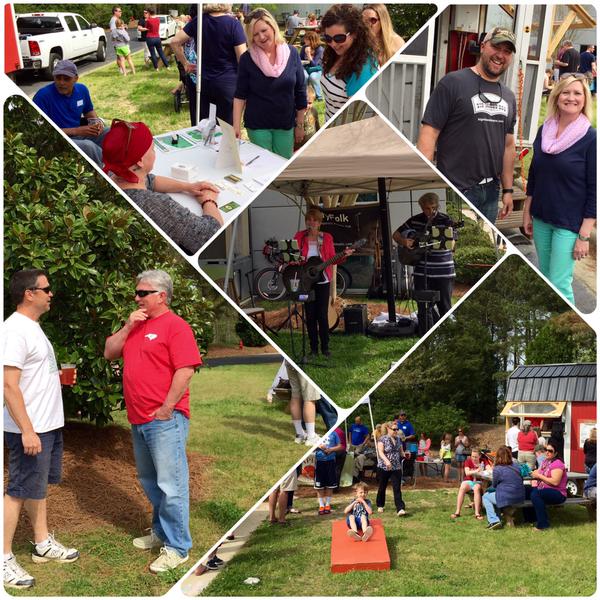 Bluegrass Jam at Toast in Waverly Place

Jane and I were very honored to sit in with a great group of people and musicians to play some traditional bluegrass at Toast in Waverly Place Sunday morning.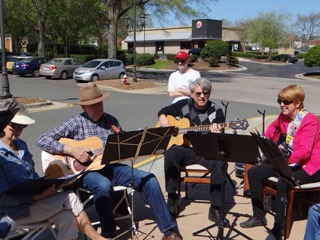 CityFolk Meets Karla Bonoff and Nina Gerber
Jane and I attended a concert on Nov 21, 2014 at the Arts Center in Carrboro by Karla with Nina backing her up on electric and acoustic guitar. Karla's songs and voice are still as great as ever and Nina's guitar playing was incredibly tasteful further enhancing Karla's singing. Both are legends in their own right.
CityFolk Performs at the Bynum Music Series
We had an absolutely magical evening playing under the stars in beautiful, bucolic Bynum, NC! As luck would have it, UNC-TV was also there filming the event for a future airing covering the Bynum Music Series. We look forward to playing there each year now!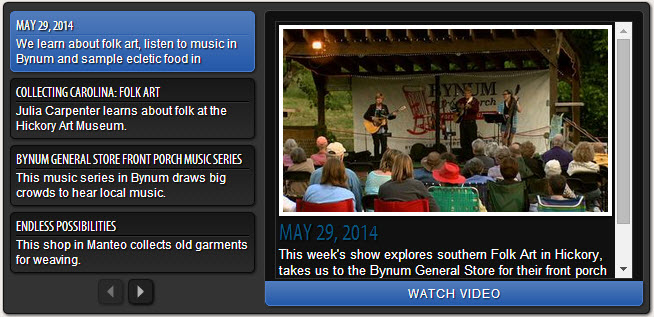 CityFolk Pictured on Town of Cary Spring Daze Website
We were excited to see that the Town of Cary featured a picture of us playing at last year's Spring Daze. While we will not be able to perform at this year's Spring Daze, we encourage everyone to attend this event as it is always a lot of fun for the entire family!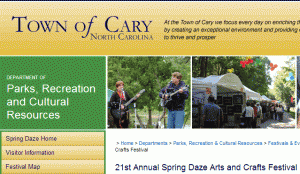 CityFolk performing at the Pittsboro Roadhouse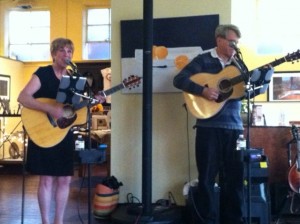 Jane and Pete performing on the newly remodeled stage at the Irregardless Cafe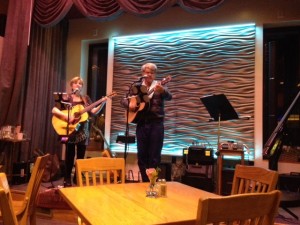 Photo from our CD (please click on the CD/Repertoire tab above for more details)
Many thanks to David Greene who took some wonderful pictures of us to use on our CD cover. Can you spot the rooster?
CityFolk Opened for Carrie Newcomer on Labor Day Weekend at Bond Park, Cary
We had a wonderful time opening for Carrie   and she gave a fantastic concert. She is as gracious as she is talented and   we were thrilled to see how many folks were there to see this wonderful singer/songwriter. We would also like to express our gratitude to Carrie for giving us the opportunity   to share the stage with her. If you were not able to attend and have not heard   Carrie, by all means check out her beautiful website at http://www.carrienewcomer.com which has sound bites as well as bit of background on Carrie. She'll have a   new CD coming out this coming February. Be sure to look for it. Many thanks   to our friends Ken Spencer and Stuart Gordon who took the following pictures   of the event!
Carrie beguiling the audience with one of   the many wonderful songs she has composed! All we can say is wow!
CityFolk opening for Carrie with our daughter Joanna sawing away on her Ned Steinberger electric upright bass!
CityFolk with Carrie. What a thrill and it was for us to share the stage with such a fantastic singer and songwriter.
Jane and Pete at Swannanoa Gathering July 2009
Jane and I were fortunate to be able to attend the Swannanoa Gathering near Asheville. We took classes from some of   the most amazing singer/songwriters and guitar players in the business including the incomparable Kathy Mattea, her husband Jon Vezner, Kate Campbell, blues guitarist and songwriter Scott Ainslie, and the funk-meister, Adam Rafferty.   It was a life changing experience for us. We just would like to send a heartfelt "thank you" to Kathy, Jon, Kate, Scott and all the folks at the Gathering for sharing their musical gifts and talents with us!
Pete and Jane with grammy-winner Kathy Mattea. Our classes with Kathy were just amazing. Her sense of service to others is inspirational.
Here's Jane with Jon Vezner, Kathy's husband   and another Grammy-winning songwriter. For those of you unfamiliar with Jon, you probably have heard his songs. Perhaps the best known is "Where've You Been" sung by Kathy which won a Grammy!
Jane and I have been long-time Kate Campbell fans. She writes and sings some of the most beautiful and poignant songs you  will ever hear. Her song "Crazy in Alabama" is almost an anthem to the civil rights movement. We were honored to be her opening act at the Sertoma  Amphitheater in Bond Park, Cary several years ago.
Here's Pete with singer/songwriter/blues   guitarist extradinaire, Scott Ainslie. Scott played some incredibly moving songs   during class and in concert. Not only can Scott play the blues with conviction, he has a wonderfully powerful voice that can move an audience to tears. You "feel" Scott's songs, not just hear them!
While I was a pile of nerves backstage (Jane   was as cool as a cucumber), we had the opportunity to perform at one of the   Gathering's open-mic nights with the various wonderful instructors and very talented singer/songwriter attendees in the audience looking on! What an incredible experience that was! Thanks to R.L. Geyer for the photo!
CityFolk at Cary Spring Daze April 25,   2009
We had perfect weather to play outdoors at the Cary Spring Daze at Bond Park and were lucky to have our daughter Joanna   play with us on her new Ned Steinberger electric upright bass! This also gave us a chance to try out our new, high tech, carbon fiber acoustic guitars. These guitars are impervious to the elements making them great instruments to   play outdoors as you do not have to worry about any sun or humidity damage. Many thanks to Brian Sadler for the pictures!
Jane and Pete with our daughter Joanna on bass and her friend Maya offering support during Cary Lazy Daze!
Jane belting one out playing her carbon fiber Composite Acoustics GX Performer guitar.
Pete crooning with his carbon fiber Rainsong WS1000.
Joanna slappin' away on her Ned Steinberger   electric upright bass!
Concert Singers of Cary "Heart Renderings"   Choral Concert
We were very honored to be part of a wonderful   choral performance by the chamber choir of the Concert Singers of Cary (CSC). Pete was thrilled (read that terrified) to be asked to play classical guitar   accompaniment to one of the songs on the program, Rune of Hospitality. It was   a indeed a thrill to play guitar along with a 35+ voice ensemble. Very unusual   to have a guitar in such a large ensemble context, but a lot of fun and a totally   new experience for us. Thanks to our good friend, Stuart Gordon of 2nd Stage, for the photos! Jane is in the second row, second from the left!
Pete deep in concentration playing classical guitar for the program's "Rune of Hospitality" piece.
Men in Black
Pete with Bruce Emery, guitar player/teacher and author of the highly regarded Skeptical Guitarist (www.skepticalguitarist.com) series of guitar instruction books. Bruce is a local Raleigh resident and CSC member. Will the real Johnny Cash please standup!
Doyle Dykes Concert!
We were fortunate to be able to attend a   Doyle Dykes concert (www.doyledykes.com)   at the Raleigh Music Academy on August 11. Wow, Doyle is such a fantastic guitar   player (awesome fingersylist) and showman. If you ever have a chance to see   him, by all means do so! He has had a rough time of it over the past few years   having a battle with cancer. But happily he is healthy and back playing better than ever! Here is a picture with me and a few of my fellow Doyle groupies!   With me (from left to right) is: Stuart Gordon of local folk group 2nd Stage, Pete, Doyle, Jeff McLean, and Mick Wells. Mick has an amazing collection of custom Taylor guitars.
Guitar Week 2005 at Swannanoa (Warren Wilson College, Asheville)
Pete had the opportunity to spend an entire week at the Swannanoa Gathering   Guitar Week at Warren Wilson College outside of Asheville attending a guitar   camp with some of the luminaries of the acoustic guitar. Spending time playing   and learning with such great musicians as Ed Gerhard, Pete Huttlinger (guitarist   for Leann Rimes, Nashville session musician, and former lead guitarist for John   Denver), grammy award winner Al Petteway, Mike Dowling, and Steve James was   nothing short of an amazing experience. Check out the Swannanoa website for further details on the program. Here are some pictures of Pete with some of the Guitar Week staff:
Pete with Pete Huttlinger
Pete performing on stage with Grammy award winner, Al Petteway
CityFolk Meets Vince Gill and John Paul Jones (bassist with Led Zeppelin) at Merlefest!
We had the opportunity to help out a talented luthier, musician, and friend,   Alan Phelps, at his booth at Merlefest this past weekend! Alan has a local store   in Cary where he builds and sells award winning mandolins and acoustic guitars.   With special passes, on our off time we were able to go backstage to be with   all the performers. We were privileged to see and meet some of the "who's who" of bluegrass and country. We met such artists as Vince Gill (see picture   below), Russ Barenberg (guitarist on the stellar "Skip, Hop, and Wobble" CD with Edgar Meyer and Jerry Douglas), Sam Bush, Gillian Welch, Doc Watson,   Patty Loveless, Mark O'Connor, Natalie MacMaster (fiddle player from Cape Breton,   Canada), and Jorma Kaukonen. acoustic fingerstylist with Hot Tuna and former   guitarist with the original Jefferson Airplane. Wow what a weekend of wonderful   music and meeting new friends. We even got to meet John Paul Jones, the former   bassist for Led Zeppelin! Yes, Led Zeppelin. Many of you may not know (including us) that John plays one mean mandolin! Even hard rockers love acoustic music!
A very special thanks to Alan for including us in this wonderful experience!
Pete and Jane with Vince Gill
John Paul Jones, former bassist of Led Zeppelin!!, with our friend Don Smith   from ESP at Alan's booth at Merlefest. JPJ is one heck of a mandolin player and loves acoustic music! Who woulda thought! Very humble, nice person too.