CityFolk is an acoustic folk group that plays their own original compositions as well as acoustic music spanning from acoustic contemporary folk to light jazz, bluegrass and country folk/rock. Known for their tight vocal harmonies, varied repertoire and instrumentation, they were originally based in Washington, D.C. area, but now reside in North Carolina. The group consists of Jane Muldoon-Smith (lead vocals, rhythm guitar, and mandolin), along with husband Peter Smith (lead and background vocals, lead 6 and 12 string guitars, mandolin, walkabout dulcimer, and guitar synthesizer) and occasionally their daughter, Joanna, on upright bass and guitar.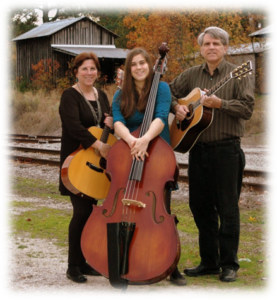 Jane performed in the DC folk music scene while attending college there, having shared the stage with such local DC celebrities as Mary Chapin-Carpenter. She was an active member and soloist in the Symphonic and Chamber Choirs of the Concert Singers of Cary. She has sung in several programs with the choir and the North Carolina Symphony and the Chamber Orchestra of the Triangle. Jane has also been selected to sing the National Anthem at local Durham Bulls games.
Pete is a classically trained guitarist having studied music at The American University with John Marlow, a protégé of Andres Segovia, and with noted fingerstyle jazz guitarist and former Chapel Hill resident, Howard Morgen. Pete played solo guitar for many years in the DC area as well as several folk and rock bands before joining with Jane to form CityFolk. He has performed classical guitar accompaniment for several Concert Singers of Cary performances. Pete expanded his performance credits to include writing and performing a portion of the score used in the Applause! Cary Youth Theater's production of the "Pied Piper of Hamelin". He also is a certified guitar repair technician/luthier.
Joanna provides upright bass for CityFolk when she is not attending school. She has served as the Principal bassist for the Triangle Youth Symphony and has been a NC All State musician. She has performed with the UNC Wilmington string orchestra as well as in several concerts with the Youth Symphony at the Meymandi Concert Hall in Raleigh .
Our Bio – Marketing Materials – Sample Repertoire – Performance Videos
For other materials:
Performance poster, please click here and complete the bottom portion with any performance details.
Promotional pictures of us, please click here or refer to our Photos page.
Note: Some of the above links will require that you have installed the Adobe Portable Document Format (PDF) document viewer.
Where We've Played
CityFolk has performed in the Triangle area for over 20 years for a wide variety of local venues including restaurants, coffee houses, country clubs, private parties, corporate events, and farmer's markets. Here is a sampling:

Irregardless Cafe in Raleigh (ongoing engagement)
Sacred Grounds Coffeehouse (ongoing engagement)
Oasis in Carr Mill Mall in Carrboro (ongoing engagement)
The Roost at Fearrington Village (ongoing engagement)
Western Wake Farmers Market (ongoing engagement)
Cary Downtown Farmers Market
North Ridge Country Club in Raleigh
Various over 55 / retirement communities
Various corporate events
Bynum Front Porch Music Series

Apex Farmers Market
Holly Springs Farmers Market
Toast Cafe, Waverly Plaza in Cary
Cary Spring Daze and Lazy Daze
The Mill, Fuquay-Varina
Pittsboro Roadhouse
Apex Today and Yesteryear Fall Festival
Museum of Science – First Fridays
Westover Beer Garden – Arlington, VA

They have been featured performers at the Cary Christmas Tree Lighting ceremony where they composed and performed a song to commemorate the event to rave reviews. They also performed in "A Little Summer Night Music: Broadway Love Songs Under the Stars" sponsored by Cary Parks and Recreation.
CityFolk has also opened for nationally known, terrifically talented singer/songwriters, Kate Campbell and Carrie Newcomer (see our Links page).
CD – Music Always Wins
Below are some song samples off CityFolk's CD. If the widget player does not play correctly, please click here to go directly to the CDBaby website. You can see more expansive information about our CD on the CD – Video – Repertoire tab.